OpenTodoList 3.6 Has Been Released
February is nearly over - so here comes this month's OpenTodoList release. This version mainly brings some fixes in the user interface, together with some few improvements.
Changelog
A bug has been fixed which sometimes prevented users from reordering tasks (and possible todos).
Fixed some issues where labels of text would not wrap on smaller displays.
Inside the schedule view now also a sync indication is shown.
Removed misleading "nothing here yet" labels in the library view when you have a search which does not match any item.
A sync is now triggered when items are deleted.
A "type" icon is now shown in the library side bar, indicating if its a local or synced library.
Improved scrolling within the notes editor on Android.
Fixed a bug that when deleting a todo list the page would remain open.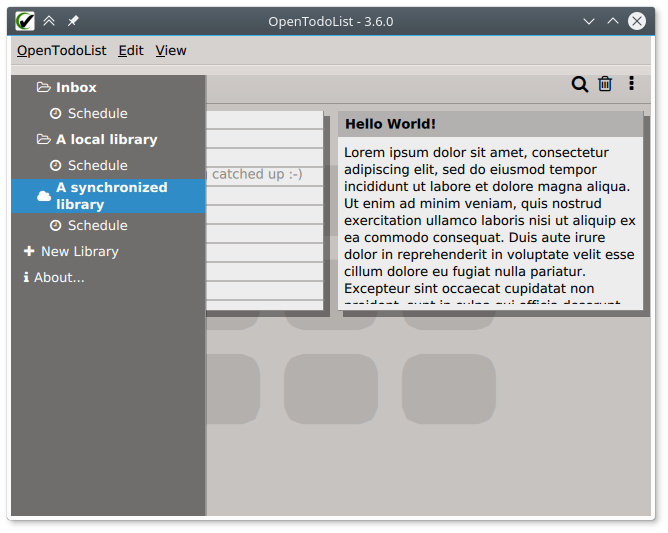 Downloads
Please find the download links for major platforms on GitHub. For Android, the release is available via Google Play.
Known Issues
For Windows, two flavors of the app are provided: One flavor is cross-compiled binaries (i.e. the Windows release files are actually built on Linux, which makes deployment much easier). However, these binaries require a working OpenGL driver, which sometimes is not the case (especially, when running Windows inside a Virtual Machine). In this case, please use the installers which are built natively on Windows (the ones which have the MSVC part in their name).